Proper installation of a gutter guard can help prevent expensive repairs of structural damage to your home, due to water leaks caused by clogged gutters. A leaf guard system will keep your gutters free flowing and help you avoid potential problems.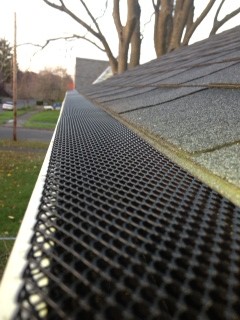 It's important to keep your gutters maintained, especially in the Pacific Northwest. Clogged and overflowing gutters can cause roof leaks, siding rot, foundation seepage, basement flooding, erosion and increase likelihood the pest infestations. In addition, when your gutter gets full, the nails become loose or come out and could cause damage to the gutter itself. Gutter guards can help prevent these problems and more.
Keeping gutters cleaned and maintained can be a big job and Excellent Maintenance Co. is here to help. We will come to your home and provide professional gutter guard installation, giving you peace of mind and keeping your home looking sharp. In addition to leaf guard installation, we can take care of all your roof and gutter maintenance needs.
Stops leaves and debris from clogging gutters
Reduces need for gutter cleaning
Prevents premature rusting
Stops blockages cause overflowing gutters
Improves the flow of water through the gutters and downspouts
Stops insects and vermin from breeding in the gutters
Excellent Maintenance Co. knows how to install leaf guard systems, even on the second or third story, using ladders safely without causing damage to the gutter, roof, or siding.
We will beat our competitors' rates, and in most cases can come out on the same day.
Do you need more information or ready to get an estimate? Call us at Call (503) 703-0471 or fill out the quote form, and we will call you right back!
Serving the entire Portland Oregon Metro Area, including West Linn, Lake Oswego, Beaverton, Hillsboro, Vancouver as more.